Making Vintage inspired swimsuits and beachwear
The nearby Baltic seawater froze at our beach this winter, solid enough to skate on! The spring weather even remained hesitant well into June, yet finally last week summer arrived in earnest. Here summer means sand between my toes, coffee in a Strandkorb and sewing original vintage swimwear!

Things to consider

Many vintage swimwear pieces were originally made from non-stretch cottons and polyesters. Although stretch fabrics did exist, even in the 1930s, they were not nearly as widely available for the home sewer as they are nowadays.
The main measurements needed for one-piece swimwear are the bust, waist, hip, and importantly, torso length (red on the diagram below). Compare your measurements to those of the patterns you plan to sew.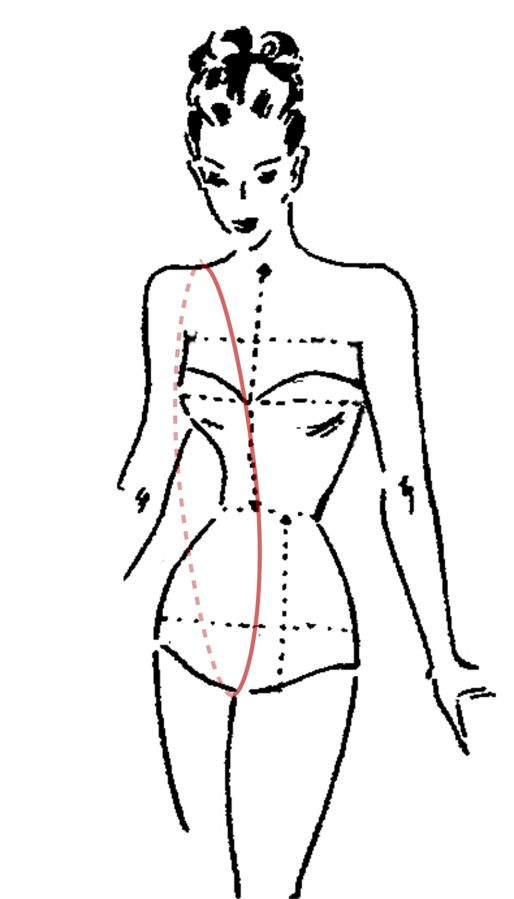 Planing on using woven fabrics
The fit can be a little trickier when using woven fabrics compared to stretch-fabrics; you may need to add a little extra fabric, or the opposite if you want a snugger fit. Modern tightly woven poly-cotton fabrics, such as those used for making ready-to-wear board-shorts, are quick drying and a good option if you plan a lot of swimming. Many other cotton fabrics are suitable (even those with a little ~5% elastic), especially if you plan to wear your garment more for laying about looking glamorous at the waterside than for more vigorous swimming.

Carefully measure your pattern, and importantly for one-piece swimwear, do necessary changes to the torso length before adjusting the widths of the bust, waist and hip. Vintage patterns may not have the levels of the bust, waist and hip lines marked; therefore you might have to estimate their positions based on the shapes of the pattern pieces. Consider sewing a swimsuit toile first.

Adapting modern stretch fabrics
Modern swimsuit and active-wear stretch-fabrics can be used with these vintage patterns; however, it is advised that you assess the pattern for fit and wearing ease. Modern stretchy Lycra used in swimwear nowadays normally takes advantage of 'negative ease'; which means the pattern is cut smaller than the body measurements, and the fabric's ability to stretch accommodates for this, so the fabric clings and hugs the body. Reducing the size of a pattern that was originally made for woven fabrics by about 10% is quite common when adapting it for modern stretch-fabrics, maybe even more for swimwear. Some modern swimwear fabrics with lots of lycra and spandex are very 'stretchy', some stretch more crosswise than lengthwise and yet a 4-way stretch-fabric might be as stretchy in all directions. How you need to adapt this pattern will depend on the fit you want and the fabric you choose. It follows that pattern changes to body-length will depend on how much the fabric stretches lengthwise. Only you can determine whether a modern stretch fabric will be suitable for your vintage swimwear and if the pattern needs changing to accommodate it.
A reduction of 10% (or any other percentage) is easy to do: simply calculate what 10% of each of the pattern's bust, waist and hip measurements is and take that amount off. Measure the actual pattern pieces and don't just deduct from your body measurements. For example, pattern-pieces measuring a total of 114 cm at the hip would be reduced to 102.6 cm; remember, and whilst the total reduction is 11.4 cm, this should be taken off the back and front proportionally. Therefore, it can be easier to calculate a 10% reduction from the widths of the back and front pieces separately so the relative sizes and shapes are retained. Importantly, we emphasize this 10% example is a guide to method and maths involved only; naturally, different stretch-fabrics may require different reductions in pattern size.
Suitable fabrics
There are no set rules. Most importantly, you need to think about choosing a fabric to match the purpose of your swim/beachwear.

If you are laying around in a sun-suit then a little bit of stretch added to a cotton will be more comfortable than none. However, making a vintage style sun-suit from a modern jersey or lycra may be too floppy. I'm currently testing this 1932 men's swimsuit, where the original description suggested a tricot knit, from a sturdy modern viscose mix Ponte-Romanit jersey with a dark retro tweed pattern on it, shown below (Swimsuit 12771 Chest 104cm/41")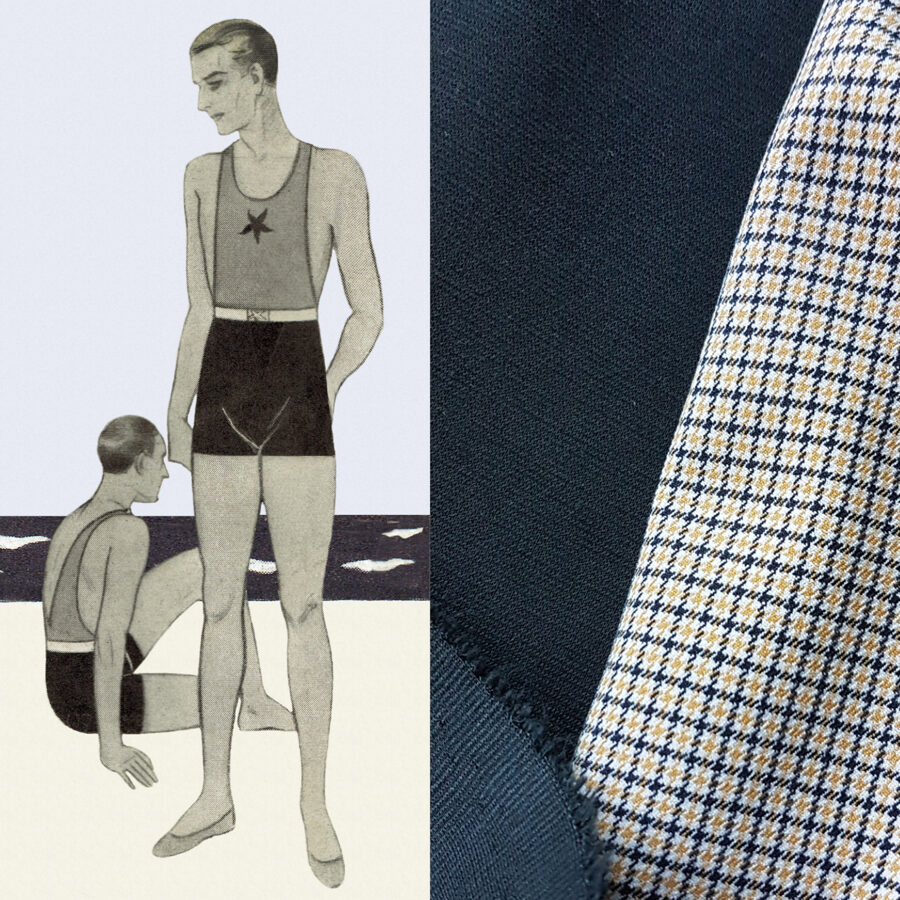 /store/item/beach-wear/swimsuit-96cm378-bust/

In addition, decide if you want to line the whole suit or only certain parts (like the bust and crotch) and consider how it will be attached. Linings that replicate the outer pieces can easily be handled 'as one' with the main fabric, especially if the edges are bound or elasticised.
If your planning to sew swimwear from a woven non-stretchy fabric, and it is actually going to get wet, then consider a fabric that has a little polyester content. A craft cotton (yes, those prints look great!) can become limp and sad in the water.
The mere mention of the word 'polyester + hot day' can make some people wince, however, by far the majority of all modern-day swimwear and board-shorts are made using polyester or lycra.

A vintage swimsuit, if you are new to wearing an original design, is going to feel different to what you are used to!

Construction & 'engineering' your vintage swimwear
Decide how the outer edges will be finished
The original patterns usually didn't include facings for armholes, legs and necklines. For many sun-suits and beach coats we have drafted these for you, but for specific swimwear designs we have not made them because elastics or bindings are usually applied. Finishing the edges with pre-made bias binding is probably better because it makes a nice narrow edge without bulky facings that can flap about or pop out. Bound edges don't need added seam allowances, so remove them.

Even if you are sewing with non-stretch fabric, consider if elastic at the edges of armholes, legs and necklines is needed.- perhaps on some edges but not others. Often vintage swimwear made of non-stretch fabrics had elastic at the edges of the back pants and the front thighs so that the fabric fits snugly at the crotch and bottom.

Stitch-Fold-Stitch method for installing elastic edging
For both stretch and non-stretch fabrics, the common Stitch-Fold-Stitch method for sewing the elastic to the edges is a good technique. Stitch the outer edge of the elastic to the edge of the pants on the right side using a narrow zigzag stitch. Gently stretch the elastic over the length of the seam. Fold elastic over toward the inside - now the elastic is covered by the fabric. Lengthen the stitches and sew a zigzag through all layers about 6mm (1/4") from the edge. This forms a neat edge and is common on modern swimwear.

Remember to first work out what length of elastic fits YOU and is comfortable for your pant leg opening and also underneath your bottom; it helps to stretch it over your body to see what is needed. You can also measure the length of the opening and subtract a certain percentage of that length, depending on the stretchiness of your elastic; some it might be 10% and others 30%. Always experiment with the strength and stretchiness of the elastic you plan to use and check if it gives a good visual effect for gathers and/or fit.

Designs that feature lengthwise seams with gathers or ruching may benefit from stabilising tapes in order to hold these features more securely, especially when the fabrics are wet.

Closures, how will you get in and out of the garment?
If you are sewing with a non-stretch woven fabric you may need a closure of some type. Original vintage swimsuits often had zippers or button placket closures, usually on the left side of the garment at the waist. The original patterns usually only marked the start and end positions of the closures, so always check if its position and length are suitable to your body and fit.
Decide if you want plackets that will hold buttons and buttonholes. The same techniques used for applying an inseam placket or zipper on a dress can be used for swimwear and closer fitting sun-suits made from woven fabrics too. An example an in-seam placket is shown in Figure 1 below. Check if your pattern will require additional seam allowances, or a special lap or extension piece, to support a placket.

On some mid-2000's reproduction swimwear, I have also seen carefully applied and well hidden strips of Velcro used as clever in-seam closures. Maybe this is an idea for your design. Experiment!

Another feature common in vintage swimwear and sun-suit designs is a shirred panel. This is the main feature of these swimsuits 5682 and 5682 (shown below). The designs have panels that are cut bigger than what is needed and the shirring, sewn with elastic thread in the bobbin, crimps the fabric up making it 'stretchy'. Shirred panels feature on the two 1953 swimsuit models shown below: Red Swimsuit 5683 in 96cm/37.8 bust. and Black Swimsuit 5682 in 104cm/40" bust.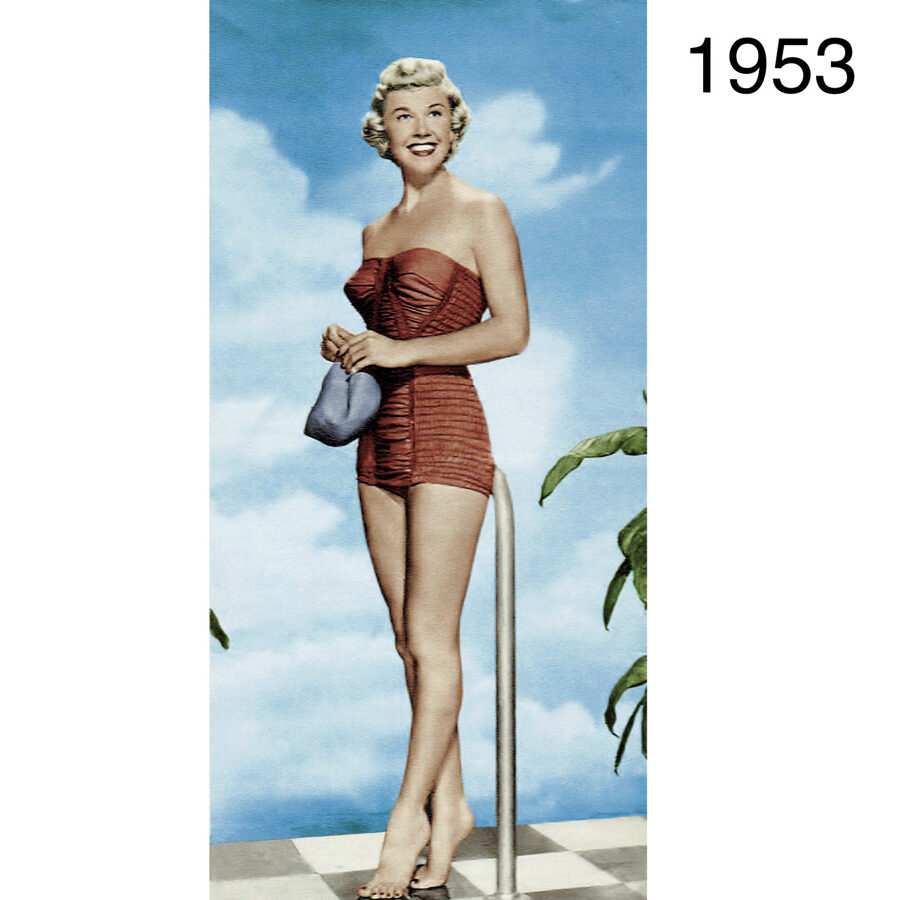 How to make elasticised shirring.
Wind sewing machine bobbin with elastic thread by hand, stretching thread slightly. Make elasticised shirring on the Sides and Back as follows: position the first and last lines of shirring 2 cm (5/8") below the top edges and above the bottom edges. Lines are usually placed on the pattern pieces as an example of where to start. Stitch lines of shirring at approximately 2 cm (0.8") intervals. Stitch with regular straight stitch, adjusting stitch length to 2.5…3.5 and decreasing needle tension slightly. Sew rows of shirring from the right side of the fabric and pull fabric taught as you sew to make sure that rows will be straight and parallel. Secure thread ends carefully and steam shirred area to gather it to its final width. Experiment with shirring on a scrap of fabric before starting; the distance between rows may also be adjusted for more or less of a shirring effect. Experiment!


Here are some additional references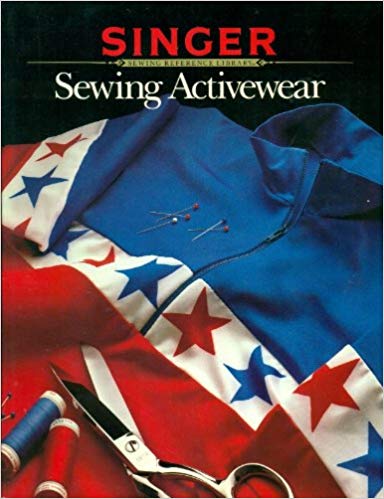 Sewing Activewear: Singer Reference Library, 1986, Contemporary Books Inc., Chicago.

Craftsy online class: Sewing the supportive one-piece' with Beverly Johnstone.


No comments
Leave a reply