The format of our patterns
One of the most important lines on a pattern is the stitching line. Most modern patterns show one outer cutting line, which represents the 'stitching line plus a 1.5 cm (5/8") seam allowance', and then dressmakers will position their stitches that distance inside those cut edges.
The more advanced dressmakers often want to know the exact stitching line because they wish to use construction techniques that require different widths of seam allowance or they don't need it in some places (e.g. bound edges). Removing the seam allowance from a pattern can be tedious and sometimes inaccurate.
To help you all, we include the important stitching line and then add seam allowances to it. So if you don't need seam allowances, simply cut them off or request a pattern PDF without them. Here is an example of the sorts of features that are shown on our PDF pattern formats: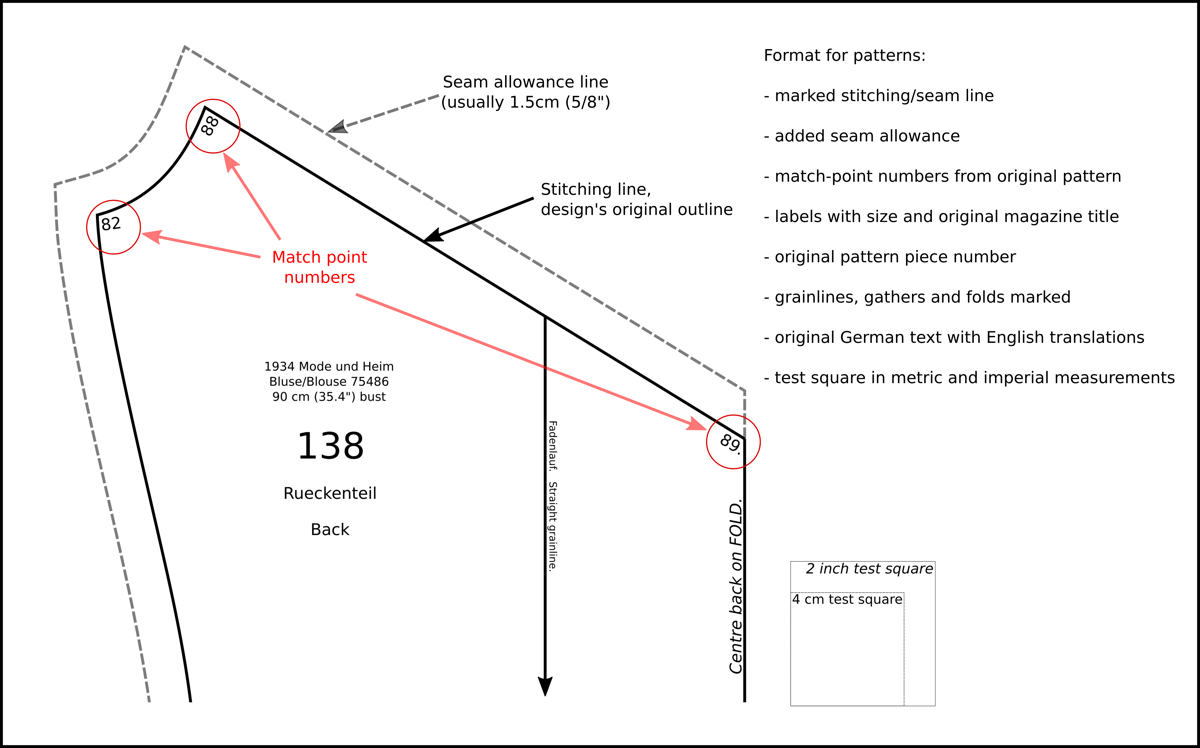 What paper do we use for our printed patterns?

We now print the majority of our patterns on 50 GSM semi-transparent paper, and the patterns are folded to fit into a standard B4 envelope for posting direct to you. This is a great option for people who don't have the time or inclination to print+cut+stick a PDF pattern together. Anyone who has stuck together all the individual pages to reassemble a large pattern, for example a long coat or ballgown, might have ended up with a slightly wobbly pattern overall, where points often don't match up. Ordering a printed pattern avoids those annoying problems, and instead you can get straight on with any personal pattern adjustments and cutting out the fabric.

Patterns that are printed on semi-transparent 50 GSM paper enable the fabric's pattern to be more visible underneath. Yes, it costs more, because this paper is more expensive for us the purchase in the width suitable for a large format printer, however, we believe this extra cost is offset by the importance and practicalities that the semi-transparency provides dressmakers.

Currently, we have two widths of semi-transparent paper; 80 cm (~31.5") and A0 width 84.1 cm (33.1"). Our extra wide 101 cm (40") paper is only available in 80 GSM, which is basically typical 'office paper'.

We can print any length on all these paper types; therefore, most full length pattern pieces, such as those needed for long bridal gowns can be printed whole- the main consideration (for any one pattern piece) is the limitations imposed by the paper's width.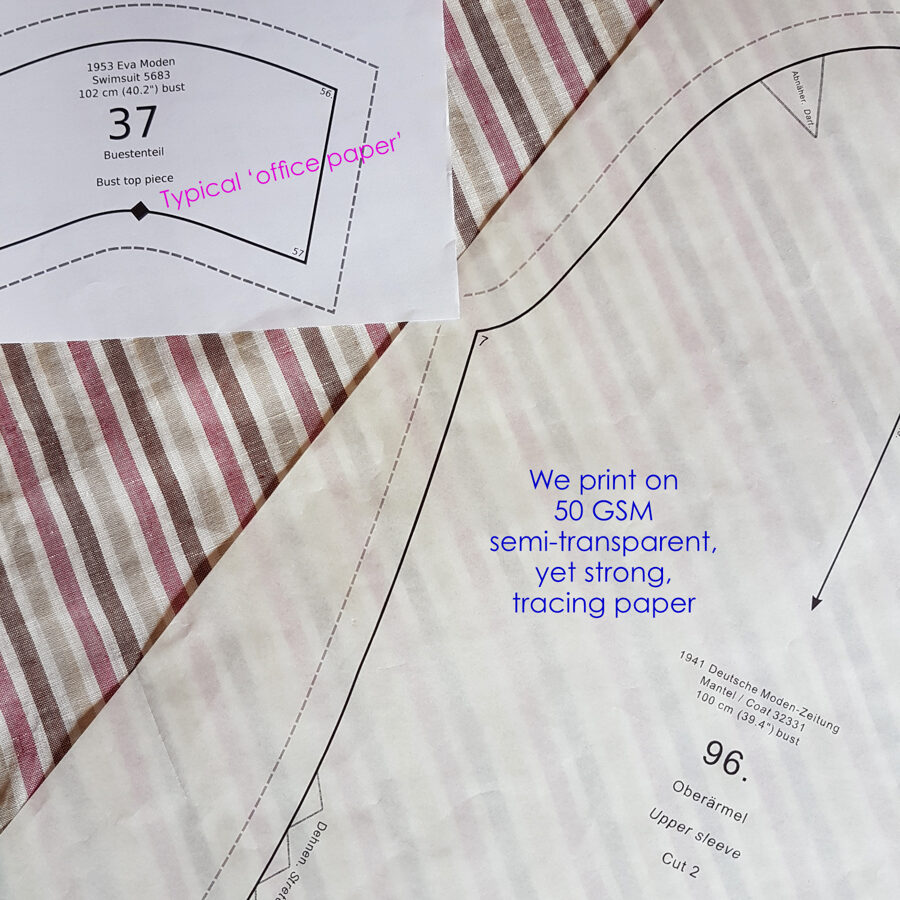 If you have any questions about printing or need additional copies of a pattern you bought previously, then please Contact us.