The format of our patterns
One of the most important lines on a pattern is the stitching line. Nowadays most modern patterns show one outer cutting line, which represents the 'stitching line plus a 1.5 cm (5/8") seam allowance', and then dressmakers will position their stitches that distance inside those cut edges. Our patterns different, they show the stitching line and the seam allowances.

The more advanced dressmakers often want to know the exact stitching line because they wish to use construction techniques that require different widths of seam allowance or they don't need it in some places (e.g. bound edges). Removing the seam allowance from a pattern can be tedious and sometimes inaccurate, but on our patterns it's easy, just cut it off!
Here is an example of the sorts of features that are shown on our patterns: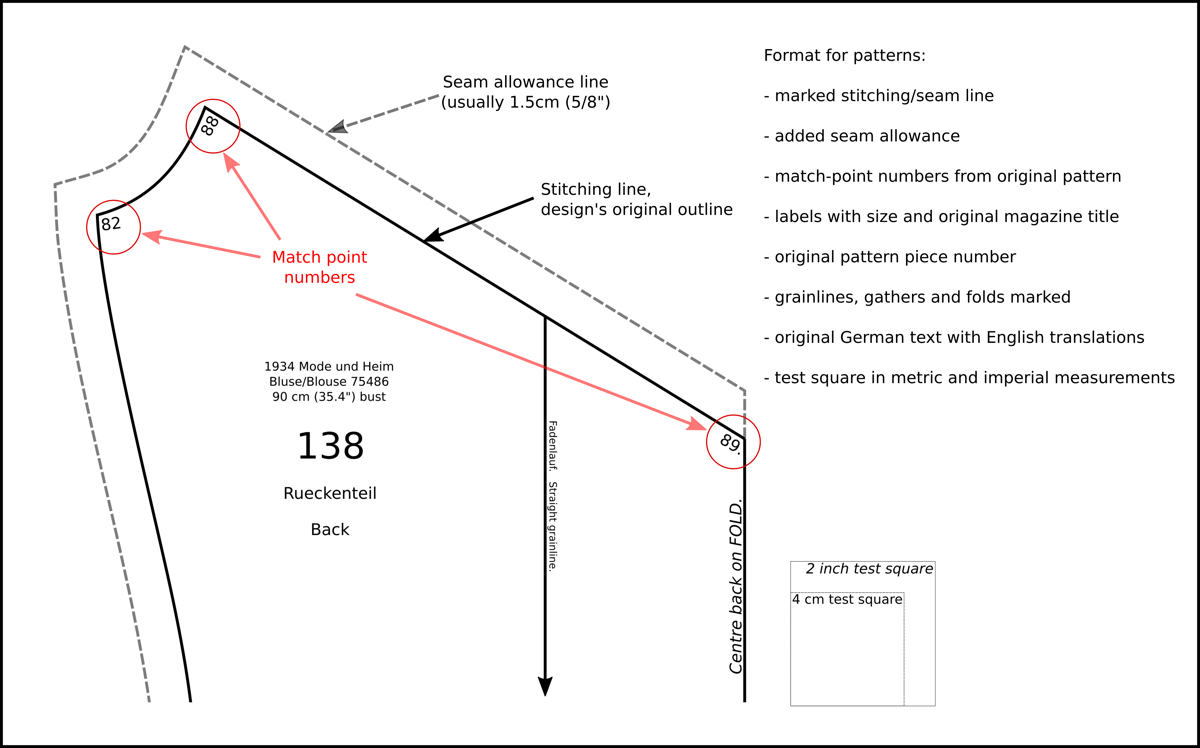 As you can see above, we include the important stitching line and then add seam allowances to it. So if you don't need seam allowances, simply cut them off, or you can even request a custom pattern without seam allowances at all.
Types of paper we use

We now print the majority of our patterns on 40 GSM semi-transparent paper. This is a great option for people who don't have the time or inclination to print+cut+stick a PDF pattern together. Ordering a printed pattern means you can get straight on with any pattern adjustments and cutting out the fabric.
We can print paper at any length, therefore the pattern pieces for full-length gowns and coats are complete and full-size. There may be the occasional pattern piece that is too wide for our widest paper (91.4 cm), but that is rare!

Patterns that are printed on semi-transparent 40 GSM paper enable the fabric's pattern to be more visible underneath. Yes, it costs more, because this paper is more expensive for us the purchase in the width suitable for a large format printer, however, we believe this extra cost is offset by the convenience and practicalities that the semi-transparency provides. The paper is especially designed for cutting out on top of fabric, because the back side is very slightly textured so that it does not slide around on the fabric, whilst the top side is smoother for printing and writing on.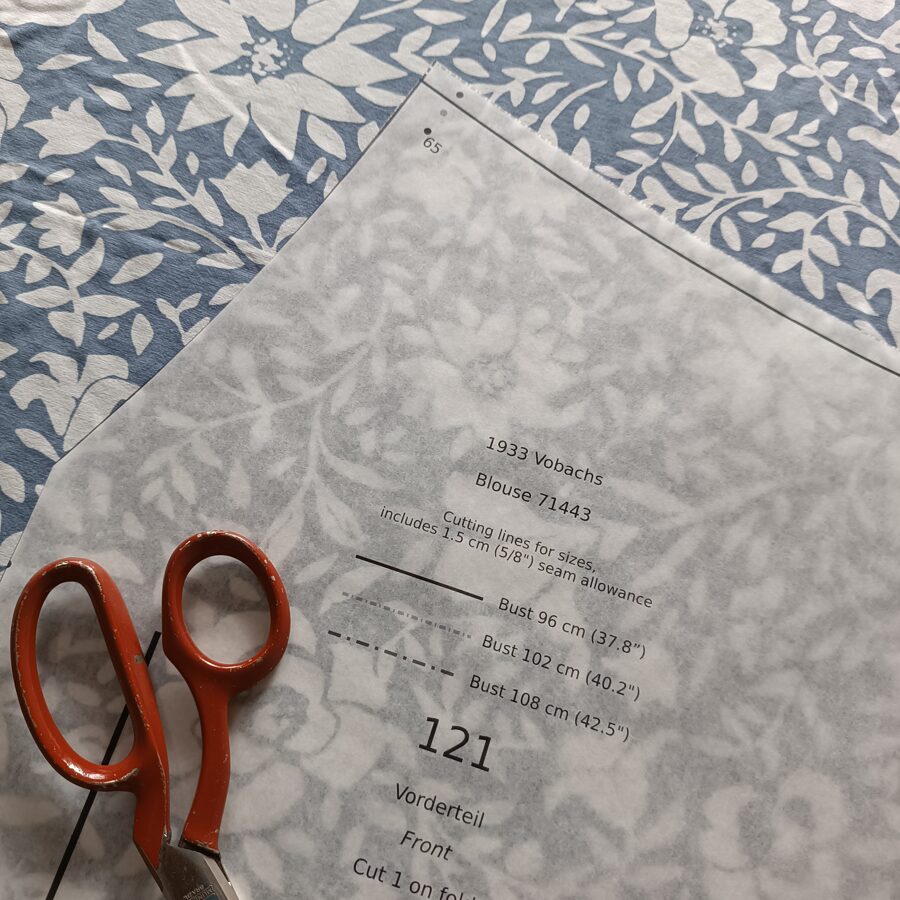 Currently, we have three paper types:
Standard semi-transparent 40 GSM paper that is 91.4 cm (~36") wide.

Fine ultra-transparent 36 GSM paper that is 80 cm (~31.5") wide. This is for designs that need a sheer paper for fine handling on delicate fabrics and/or detailed pattern matching. It is available on request.

Extra-wide opaque 80 GSM paper that is 101 cm (40") wide. This paper is the typical 'office paper' and is only used for over-sized designs. It is available on request for special projects.
If you need additional copies or help regarding printing your pattern, then please send us a message on our
Contact us form
.
Postage options for our printed patterns
All of our patterns are printed 'in-house' individually on demand. Standard printing is on 40 GSM semi-transparent paper that is 91.4 cm wide. The printed pattern is then folded to fit the dimensions of approximately 22 cm x 32 cm. An A4-sized guide document is printed and included for all printed patterns, and then the pattern in wrapped in bio-cellophane to protect it on its journey to you. Patterns are sent either in a standard B4 envelope, or in a cardboard packet, depending on weight and/or your selected postage option.
All pattern orders have un-tracked or tracked postage options. All magazine orders are sent with tracking because they are all irreplaceable original vintage editions.
If your postage to your destination is not visible at the checkout, or if your prefer an alternative postage and/or postal-insurance option, please email me with an inquiry before ordering so I can help you. Contact us form.