The format of our patterns
One of the most important lines on a pattern is the stitching line. Most modern patterns show one outer cutting line, which represents the 'stitching line plus a 1.5 cm (5/8") seam allowance', and then dressmakers will position their stitches that distance inside those cut edges.
The more advanced dressmakers often want to know the exact stitching line because they wish to use construction techniques that require different widths of seam allowance or they don't need it in some places (e.g. bound edges). Removing the seam allowance from a pattern can be tedious and sometimes inaccurate.
To help you all, we include the important stitching line and then add seam allowances to it. So if you don't need seam allowances, simply cut them off or request a pattern PDF without them. Here is an example of the sorts of features that are shown on our PDF pattern formats: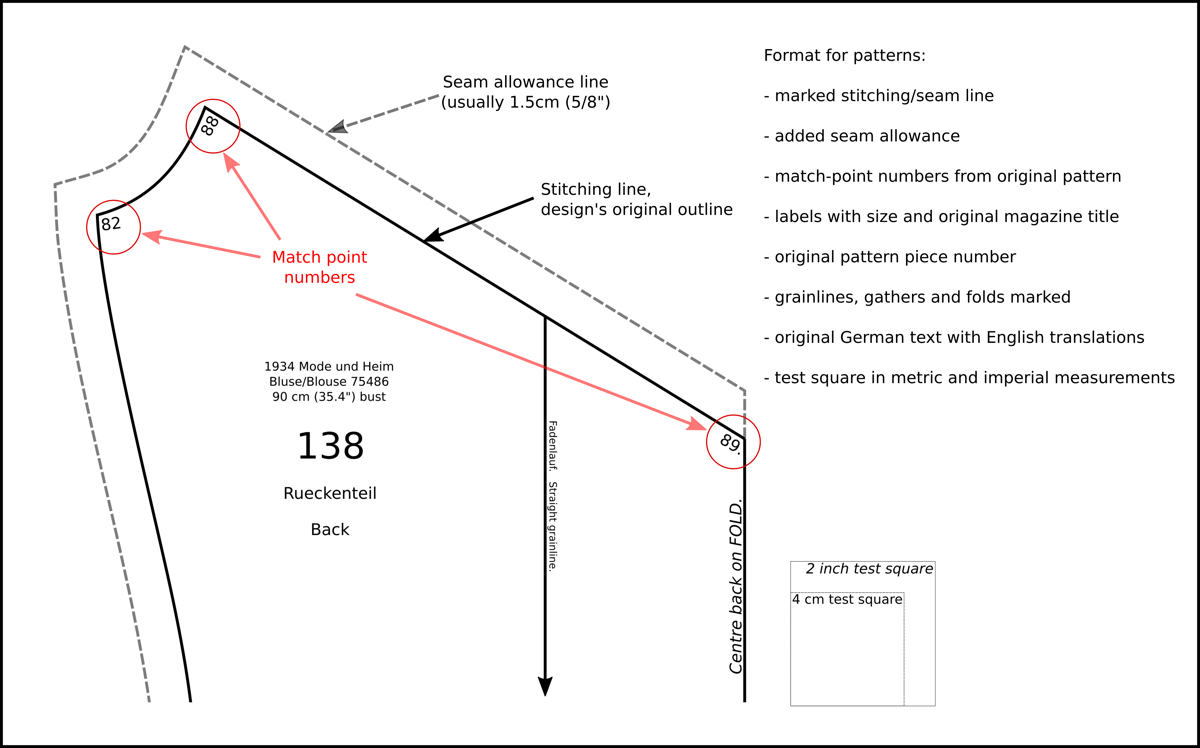 Our printed patterns - what paper do we use?

We now print the majority of our patterns on 50 GSM semi-transparent paper, and the patterns are folded to fit into a standard B4 envelope for posting direct to you. This is a great option for people who don't have the time or inclination to print+cut+stick a PDF pattern together. Anyone who has stuck together all the individual pages to reassemble a large pattern, for example a long coat or ballgown, might have ended up with a slightly wobbly pattern overall, where points often don't match up. Ordering a printed pattern avoids those annoying problems, and instead you can get straight on with any personal pattern adjustments and cutting out the fabric.

Patterns that are printed on semi-transparent 50 GSM paper enable the fabric's pattern to be more visible underneath. Yes, it costs more, because this paper is more expensive for us the purchase in the width suitable for a large format printer, however, we believe this extra cost is offset by the importance and practicalities that the semi-transparency provides dressmakers.

Currently, we have two widths of semi-transparent paper; 80 cm (~31.5") and A0 width 84.1 cm (33.1"). Our extra wide 101 cm (40") paper is only available in 80 GSM, - like typical 'office paper'.

We can print any length on all these paper types; therefore, most full length pattern pieces, such as those needed for long bridal gowns can be printed whole- the main consideration (for any one pattern piece) is the limitations imposed by the paper's width.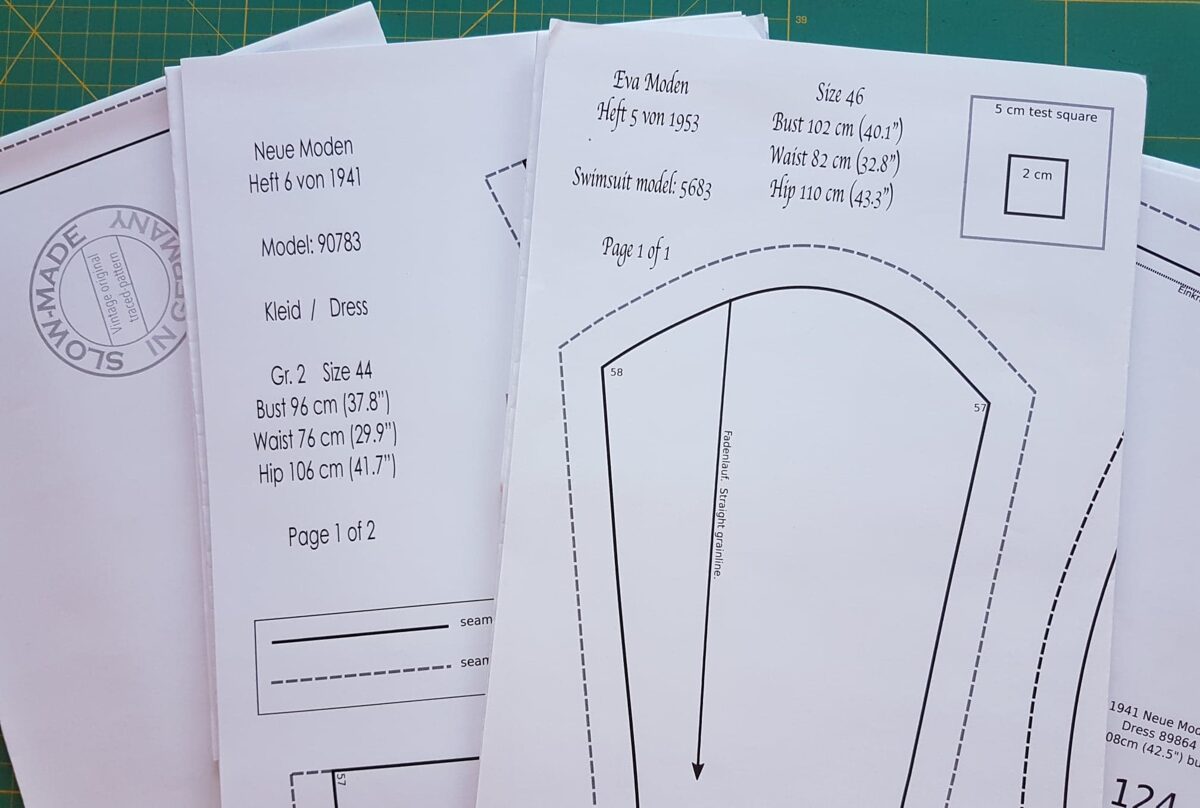 If you need additional copies or help regarding printing your pattern, then please send us separate message (Contact us).


Bespoke hand-traced patterns by Everlasting Art Design
Inga from Everlasting Art Design (link) provides a very unique service by hand tracing many of our designs onto strong 45 GSM semi-transparent paper. All the original marks (match-point numbers, grainlines, folds, etc.) are included and all the pattern pieces are individually cut out for you. Large and long pieces, such as skirts and even ballgowns, are cut to their full length. What arrives is a full set of clearly marked pattern pieces that are ready to be placed on the fabric you've chosen.

Since the time when these sewing patterns were originally drafted was a time when sewing was a skill mastered at school and, for majority of families, home sewn clothes were just part of their life - these patterns were rarely accompanied with detailed instructions. However, each pattern set Inga provides for you comes with a basic guide in English describing how to read the pattern and what are the suggested fabric yardages. Patterns are single size, which means they are drafted for a specific range of measurements.

The price set for the service covers a small share of the time taken (which in some cases, can be a couple days for only one pattern because of its complexity or the fragility of the original pattern sheet) and materials used for the task.

Important to know is that these hand-traced patterns are not made in advance but are specially traced upon request (order). It takes time to track, cut and prepare the pattern for you, so it may take up to 2 weeks to process before the pattern is published to meet all pattern requirements. If you need it in a shorter time frame, please send Inga a message (link) and ask if it is possible to rush your order or discuss a suitable time-frame. A rush order fee may be charged.